The surface of the zirconium rod and zirconium alloy must be clean and smooth before joining, heat treatment, electroplating and forming. This article introduces 2 types of surface treatment methods for zirconium materials.
Surface decontamination
Grease, oil, and lubricants produced during zirconium machining or other processing can be removed in a number of ways. Commonly used cleaning methods are
1) cleaning with alkaline or milky detergent in a soaking tank;
2) cleaning with ultrasonic vibration;
3) rinsing with acetone or trichloroethylene or steam degreasing and
4) cleaning with other cleaning agents.
Small stains can also be removed by hand wiping with some solvents such as acetone, alcohol, trichloroethylene, or a trichloroethylene substitute. In the electrolyte system, if the voltage and current can be controlled to avoid anodic polarization or spark discharge and pitting, positive or negative polarity decontamination can be used. Before heat treatment and bonding, the surface of the zirconium material must be cleaned to prevent metal contamination and the resulting deterioration of ductility.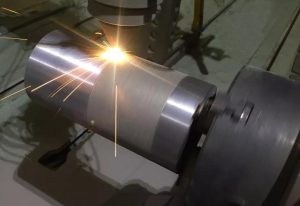 Blast cleaning
Mechanical decontamination methods such as sandblasting, shot blasting, and evaporative cleaning can remove dirt and lubricants from zirconium and hafnium surfaces. Alumina, silicon carbide, silica and steel grit are ideal media for mechanical decontamination. The decontamination medium used should be replaced regularly to avoid increased workload due to particle passivation.
Grinding or shot peening may cause residual compressive stress and thermal deformation on the surface of the material, especially the surface of the sheet. Hot deformation may also occur during subsequent rolling and profile machining.
Blast cleaning is not a substitute for pickling. Blast cleaning cannot remove surfaces contaminated with interstitial elements such as carbon, oxygen, and nitrogen. In general, blast cleaning followed by pickling can ensure the complete removal of surface contamination and cold-worked layers, resulting in a smooth, shiny metal surface.
For more information, please visit https://www.samaterials.com/.