Broken or missing teeth usually require fillings. The two conventional options are zirconia ceramic teeth and metal-ceramic teeth. This article will analyze the difference between the two and help those in need to choose the one that suits them.
Metal ceramic teeth
Metal-ceramic crowns are accepted by most patients because of their good strength, but they have many disadvantages. The metal substrate is easily oxidized to form gray oxides, which are scattered and deposited on the edge of the gums, causing the gums to turn gray and affecting the appearance; at the same time, metal porcelain teeth may have a strong stimulating effect on the gums, and even cause gum swelling, bleeding, allergies and other symptoms; the color of the metal-ceramic crown should be covered with opaque porcelain, so that the ceramic crown can block the light to a certain extent, thus affecting the aesthetics of the teeth.
Zirconia all-ceramic teeth
At present, there are many types of all-ceramic dental materials, such as leucite, lithium-based porcelain, alumina, zirconia, etc. There are also a variety of fabrication methods, such as infiltrated ceramics, hot pressure casting ceramics, porcelain deposition, computer-aided design, and computer-aided fabrication. In comparison, among all all-ceramic restoration materials, zirconia material has higher flexural strength, so it is accepted by more and more patients and doctors.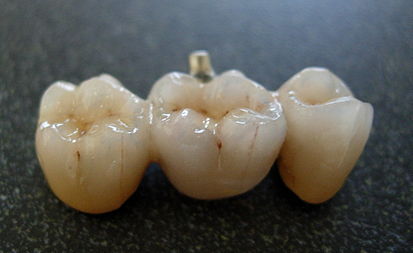 Zirconium dioxide all-ceramic crown has its own unique advantages. Since there is no metal bottom crown, its restoration has permeability and aesthetics, which provides a guarantee for aesthetic restoration. At the same time, zirconium dioxide has strong biocompatibility and is non-irritating to the gums. Most patients will not experience symptoms such as gum swelling, bleeding, and allergies, which meet the clinical requirements.
Advantages of zirconium dioxide
(1) Good mechanical properties: it has a flexural strength greater than 900MPa, so it can also be used for the repair of posterior teeth and porcelain bridges with more than 6 units.
(2) Good biocompatibility: The zirconia all-ceramic crown itself does not contain metal, which can exclude metal allergic reactions; zirconia also has good biocompatibility.
(3) No obstruction to X-rays: There is no need to remove the dentures when performing cranial X-rays, CT, and MRI examinations, because zirconia ceramic teeth have no obstruction to X-rays.
(4) Good strength and density: Zirconium dioxide is widely used, especially in high-precision instruments, such as aviation equipment. Because of its good crack resistance and tough curing after cracking, it can be made into a porcelain bridge with more than 6 units, and it can also solve the problem that the all-ceramic system cannot be used as a long bridge.
(5) The color is comparable to real teeth: the color of the base crown of the ceramic is white, so the neck of the porcelain tooth will not become black and darkened for a period of time after the porcelain tooth is inserted, thus avoiding the problem of discoloration of the metal porcelain crown.
(6) Healthy biological material: Zirconium dioxide is an excellent high-tech biological material with good biocompatibility, which is healthy and safe to use.
(7) High-tech quality: Zirconium dioxide ceramic teeth are made by good computer-aided design, laser scanning, and then controlled by computer-aided program grinding.
Hopefully, the above analysis will help you a lot in making your choice between metal ceramic teeth and ceramic teeth.