Developing zirconium oxide ceramic insulators as an alternative to conventional insulating materials in electronics has the potential to revolutionize the industry. Zirconium oxide, with its high dielectric constant and excellent thermal stability, presents a promising option for various electrical components, including capacitors and resistors. This innovation could lead to smaller and more efficient electronic devices with improved performance.
The Need for Advanced Insulating Materials
As electronic devices become increasingly compact and powerful, the demand for high-performance insulating materials continues to rise. Traditional insulators, such as plastics or glass, often have limitations in terms of their electrical properties, thermal stability, and size constraints. This necessitates the exploration of alternative materials that can meet the evolving needs of the electronics industry.
Zirconium Oxide Ceramic as an Ideal Insulating Material
Zirconium oxide ceramic offers several advantages that make it an ideal choice for insulating materials in electronics:
High Dielectric Constant: Zirconium oxide ceramic exhibits a high dielectric constant, meaning it can store and release electrical energy efficiently. This property is crucial for capacitors, which rely on the ability to store and discharge charge rapidly. By using zirconium oxide ceramic as an insulating material in capacitors, their overall performance and energy storage capabilities can be significantly enhanced.
Excellent Thermal Stability: Electronic components generate heat during operation, and maintaining stable temperatures is vital for their longevity and performance. Zirconium oxide ceramic possesses excellent thermal stability, allowing it to withstand high temperatures without degradation. This property makes it an ideal choice for insulating materials, ensuring the reliable operation of electronic devices even under demanding thermal conditions.
Size Reduction and Efficiency: Zirconium oxide ceramic insulators enable the design of smaller electronic devices due to their higher dielectric constant. With smaller insulators, components can be packed more densely, leading to reduced device size and improved energy efficiency. This can have significant implications for portable devices, wearables, and other miniaturized electronics.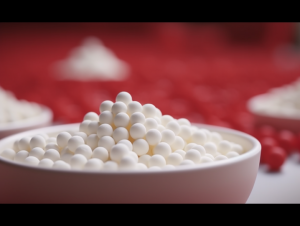 Advancements in Electronics with Zirconium Oxide Ceramic Insulators
The integration of zirconium oxide ceramic insulators in electronics can unlock several benefits:
Improved Electrical Performance: The high dielectric constant of zirconium oxide ceramic allows for enhanced electrical performance, enabling faster signal transmission, improved energy efficiency, and reduced power losses. This can lead to more reliable and high-performing electronic devices in various applications, including telecommunications, consumer electronics, and automotive systems.
Enhanced Miniaturization: The use of zirconium oxide ceramic insulators can enable the development of smaller electronic devices without sacrificing functionality. By reducing the size of insulating components, manufacturers can create compact and lightweight products while maintaining or even improving overall performance.
Thermal Management: Zirconium oxide ceramic's excellent thermal stability helps dissipate heat generated by electronic components, thereby preventing overheating and ensuring reliable operation. This is particularly beneficial in high-power applications, such as power electronics and electric vehicles, where efficient heat dissipation is crucial for maintaining optimal performance and extending the lifespan of the devices.
Conclusion
Zirconium oxide ceramic insulators have the potential to transform the field of electronics by offering an alternative to conventional insulating materials. With their high dielectric constant, excellent thermal stability, and potential for size reduction, zirconium oxide ceramic insulators can enable the development of smaller and more efficient electronic devices with improved performance. As research and development in this area continue, we can expect to witness exciting advancements in various industries, paving the way for a future of highly optimized and advanced electronic technologies.