Introduction
Zirconium silicide is a steel gray orthorhombic shiny crystal. It is insoluble in water, mineral acids, and aqua regia, and soluble in hydrofluoric acid. Zirconium silicide is an excellent ceramic material with high hardness, high melting point, high electrical conductivity, high thermal conductivity, and excellent thermal shock resistance. Because of these advantages, it can be applied to structural materials or new engineering materials for high-temperature corrosive media.
Preparation
Zirconium silicide nanomaterial can be obtained by reacting a mixture of zirconium oxide powder, silicon powder and lithium in a proportioned amount at a high temperature in the absence of air. Specific steps are as follows:
(1) Add 5mmol zirconium dioxide, 5mmol silicon powder and 50mmol metallic lithium in a 20-milliliter stainless steel autoclave, then put the autoclave into an electric furnace.
2) Set the heating rate of the electric furnace to 10 °C per minute, and heat the electric furnace to 600 °C.
3) After the temperature was raised to 600°C, the temperature was maintained for 40 hours to ensure that the raw materials were fully reacted.
4) After the reaction was completed, naturally cool down the autoclave to room temperature, and then open the autoclave and take out the black deposit.
5) Wash the deposit with distilled water once, and then wash with dilute hydrochloric acid and absolute ethanol once respectively.
6) Filter the washed deposit, and then dry it in a vacuum drying oven at 60° C for 4 hours to obtain a zirconium silicide nanomaterial.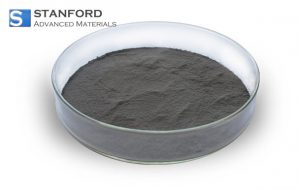 The above reaction process is represented by the following equation:
ZrO2+Si+4Li=ZrSi+2Li2O
According to the quality of the prepared zirconium silicide nanomaterials and the quality of the used raw material zirconium dioxide, the method obtains that the yield of zirconium silicide is 85%.
Application
Zirconium silicide nanomaterial can be used to prepare a high-density ceramic matrix composite material: zirconium diboride-zirconium disilicide-tungsten carbide ceramic matrix composite material. This material is prepared from zirconium diboride powder, zirconium disilicide and tungsten carbide (purity >98.0%) using a two-step hot pressing sintering process. Wherein, the mass fraction of zirconium diboride powder is 75-90%, the mass fraction of zirconium disilicide is 10-15%, and the mass fraction of tungsten carbide is 0-10%. Adding a higher content of zirconium diboride to the ceramic matrix composite material is beneficial to improve the physicochemical properties of the composite material; adding this appropriate amount of zirconium disilicide to the ceramic matrix composite material can significantly reduce the sintering temperature for material preparation; the added tungsten carbide can promote anisotropic growth of grains inside the material.
For more information about platinum, please visit http://www.samaterials.com/.