Globally, zirconia producers are mainly concentrated in a few countries, mainly including China, Japan, France, the United Kingdom, the United States, and Australia. Companies with a comprehensive zirconia industrial layout include Saint-Gobain, Japan's Tosoh, Japan's First Element, Showa Denko, France's Suvi, and Japan's Sumitomo Osaka Cement. Among them, the main business of First Element is zirconium-based, and most of the other companies are large-scale integrated enterprises.
With zirconia as the main component, after adding rare earth elements (mainly cerium oxide) and other oxides, composite zirconia powders with different performance characteristics can be formed. The nature of the composite zirconia depends on the type of material or crystal structure with which it is combined. Depending on the specific needs of the application, different formulations of composite zirconia materials with different properties can be prepared using different formulations.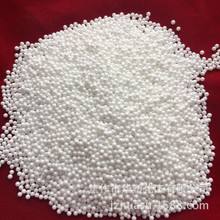 In general, zirconia ceramics are divided into three categories: PSZ partially stabilized zirconia, also known as ceramic steel (with superior impact resistance); TZP tetragonal polycrystalline zirconia (better mechanical strength and fracture toughness); FSZ fully stabilized zirconia, crystalline phase cubic phase, with high-temperature conductivity, but high thermal expansion coefficient and poor thermal shock resistance.
Catalyst
Since zirconia is the only metal oxide that has both acidic and basic and oxidizing and reducing properties and is also a p-type semiconductor, it is easy to generate oxygen vacancies. As a catalyst carrier, it can interact with the active component, so its supported catalyst has more excellent properties than other materials-supported catalysts.
Precise ceramic parts
Zirconia ceramics can have excellent mechanical properties and fracture toughness, chemical resistance, and biocompatibility, so you can see the back of zirconia ceramic materials in industry and life.
Battery material
Solid oxide fuel cells (SOFC) are a new type of green energy that developed rapidly in the 1980s. Due to its high energy conversion efficiency (up to 65%) and the use of various fuels such as hydrogen, carbon monoxide, methane, etc., the system design is simple, and the pollution-free emission is low, which will be applied to the power generation system. The solid electrolyte is the core component of SOFC.
Zirconium oxide ceramics have become the most researched and widely used solid electrolyte materials because of their high ionic conductivity, good chemical stability, and structural stability.
Refractory
Zirconium oxide is an excellent special oxide refractory material and used at a high temperature (2300 ℃ – 2400 ℃). It has good chemical stability and is not easy to decompose, and is highly corrosive and resistant to acid and alkali slag. The industry uses zirconia-based refractories to produce refractory materials with excellent thermal shock resistance, corrosion resistance and wears resistance, which can make refractories have better performance and longer service life. It has been applied to the manufacturing process of industrial continuous casting steel and alloy materials and has important significance for improving the quality and cost of metal materials such as steel.
Optical material
Zirconium dioxide ZrO2 is a high refractive index, low absorptive material that can be used in coatings in the near-ultraviolet (<300 nm) to infrared (~8 μm) spectral regions. Nano-zirconia is added to the special coating material to increase the refractive index of the coating without changing the light transmittance. In the field of optical materials, in addition to being used as a coating, nano zirconia can also be used as a polishing material for optical lenses.
Electronic materials
For engines that use three-way catalytic converters to reduce pollution emissions, oxygen sensors are essential in the automotive industry. It uses the ceramic sensitive component to measure the oxygen potential in the exhaust pipe of the automobile, and calculates the corresponding oxygen concentration by the principle of chemical balance, and achieves the measuring component that monitors and controls the combustion air-fuel ratio to ensure the product quality and the exhaust gas emission standard. There are two types of oxygen sensors currently in use: titanium oxide and zirconium oxide. The core component is a porous zirconia ceramic tube, which is a solid electrolyte with sintered porous platinum (Pt) electrodes on both sides.
Plumbum zirconate titanate (PbZrxTi1-xO3, PZT) ceramics are a commercially important class of piezoelectric materials. Compared with other piezoelectric ceramics, PZT ceramics not only have high Curie temperature and piezoelectric coefficient, but also are easy to be doped and modified, and have good stability, so they have an important position in the electronic machinery manufacturing industry. They are the basic material for the preparation of most electromechanical devices such as sonar, hydrophone, ultrasonic generator, volt generator, and position trimmer.
Brake material
Ceramic materials have high heat resistance, thermal stability, and hardness. As an important member of advanced ceramics, zirconia ceramics certainly have similar characteristics. In view of the excellent quality of advanced ceramics, researchers have introduced it into friction materials to obtain longer-lasting and more durable friction materials under the most extreme working conditions. Today, more and more composite formulations for brake pads and clutch linings contain ceramic materials.
Many ceramic materials can be added to the brake material, including the zirconia ceramics we introduce today, in addition to silicon carbide, alumina, silica, and magnesia
Thermal spray material
Using thermal spraying technology, the ceramic coating is deposited on the metal collective, and the characteristics of high-temperature resistance, heat insulation, wear resistance, corrosion resistance and insulation of the ceramic are combined with the toughness, workability, the electrical and thermal conductivity of the metal material. The ideal composite coating product has become an important development direction in the field of composite materials and product development.
Aviation surface protection technology is a hotspot of thermal spraying for many years. The key components of aero-engines are high-temperature alloy turbine blades and turbine disks. The current engine turbine inlet temperature is close to or exceeds the melting point of the alloy, and such high temperatures will affect the function of the engine and dye. Therefore, an important development trend of superalloys is to coat the surface of the alloy with a high-melting ceramic coating (Thermal Barrier Coatings – TBCS) with good thermal insulation properties. At present, the most widely used TBCS is yttria-stabilized zirconia materials.
Stanford Advanced Materials supplies high-quality zirconium products to meet our customers' R&D and production needs. Please visit http://www.samaterials.com for more information.