Description of zirconium-containing refractory products
Zirconium-containing refractory products refer to refractory products made of zirconia (ZrO2) and zircon (ZrSiO4) as raw materials, including zirconia products, zircon products, zirconium mullite, and zirconium corundum products. According to different production processes, zirconium-containing refractory products are divided into sintered products, fused cast products, and non-fired products. Zirconium-containing refractory products have the characteristics of high melting point, low thermal conductivity, and good chemical stability, especially good corrosion resistance to molten glass and liquid metal.
Properties of zirconium-containing refractory products
Dense, stabilized zirconia has a melting point of 2677°C and a service temperature of 2500°C. The bulk density fluctuates between 4.5 and 5.5 g/cm3 due to the purity of the raw materials and the different manufacturing methods. The bulk density of dense zirconia products can reach 5.75g/cm3. Sintered zirconia products do not chemically react with molten metal and liquid glass. Caustic alkali solutions, carbonate solutions, and acids (except concentrated H2SO4 and HF) do not chemically react to zirconia. When carbon reacts with sintered zirconia, zirconium carbide is formed only on the surface. Therefore, under the condition of oxidizing atmosphere, zirconia products can be used at high temperatures without chemical change.
The main component of zircon products is ZrO2•SiO. Zircon is decomposed into ZrO2 and SiO when heated at 1680℃. Quartz stone products have good corrosion resistance to various molten metals, acidic reagents, and liquid glass, but they are prone to erosion reactions when they come into contact with alkaline slag or alkaline refractory materials. Aluminum-zirconium-silicon (AZS) cast bricks and fired bricks have good resistance to glass liquid erosion, and can be used in the pool wall and upper structure of glass melting pool kilns.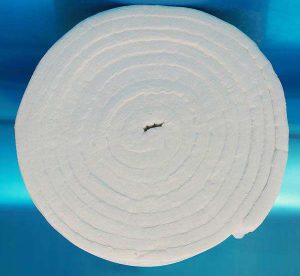 Uses of zirconium-containing refractory products
Zirconium-containing refractory products have high refractoriness, mechanical strength, and chemical stability. It can be widely used in metallurgy, building materials, the chemical industry, machinery, and other professional fields.
Zircon bricks have good resistance to acid slag, small corrosion loss, and slight sticking of slag. They can be used in the slag line of the ladle and have a long service life. Zircon products can also be used as continuous-casting intermediate tank base bricks, cushion bricks, and nozzle bricks. Zircon bricks are corrosion-resistant to low alkali glass and can be used in the kiln walls of glass-melting furnaces. It can also be used for the arch foot of the upper structure of the glass melting furnace or the intermediate transition layer between the silica brick and the corundum brick and is also an important material for the comprehensive masonry bottom.
Zirconia bricks can be used in thermal equipment for the building materials industry and metallurgical industry, such as sizing nozzles for billet continuous casting, submerged nozzles, and slag lines in long nozzles.
Fused-cast bricks with a ZrO2 content of more than 90% can be used for side walls, partition walls and flow holes of borosilicate glass melting furnaces and aluminosilicate glass melting furnaces. AZS-fired bricks and fused cast bricks can be used in soda-lime glass melting kilns, such as flow holes and side walls. The use of this brick to build liquid flow holes and side walls can reduce the contamination of glass liquid by refractory materials. In addition, zirconium mullite fused cast bricks can be used in the metallurgical industry heating furnaces, soaking furnaces, glass melting furnaces in the building materials industry, etc.
For more information, please visit https://www.samaterials.com/.