What is Zirconium-containing Refractory Material?
Zirconium-containing refractory materials are made of zirconia (ZrO2) and zircon (ZrSiO4) as raw materials. "Zirconium-containing" usually refers to materials containing the following zirconium products: zirconia, zircon, zirconium mullite and zirconium corundum. Zirconium-containing products have good corrosion resistance to various molten metals, acidic reagents and liquid glass.
Zirconium-containing refractory materials can be divided into the sintered, fused cast, and non-fired products based on different manufacturing methods.
What are the Different Manufacturing Methods?
Sintered Zr-Containing Refractory Product
The basic steps to manufacture zirconium-containing sintered bricks are to prepare raw materials, press green bodies, and sinter at high temperatures.
Another method is to obtain blanks by granulation, kneading, machine pressing or extrusion molding, and the clinker fired at high temperature is used as aggregate, and the clinker fine powder is used for batching, kneading, molding, drying, and sintering to finally obtain the finished product.
Cast Zr-Containing Refractory Product
1) Use zircon concentrate or industrial zirconia and industrial alumina powder as raw materials.
2) Add sodium oxide, calcium oxide, boron oxide and rare earth metal oxides as additives.
3) The powder is melted at a temperature above 2500°C by means of electric arc melting, cast in a mold, cooled, annealed, and machined.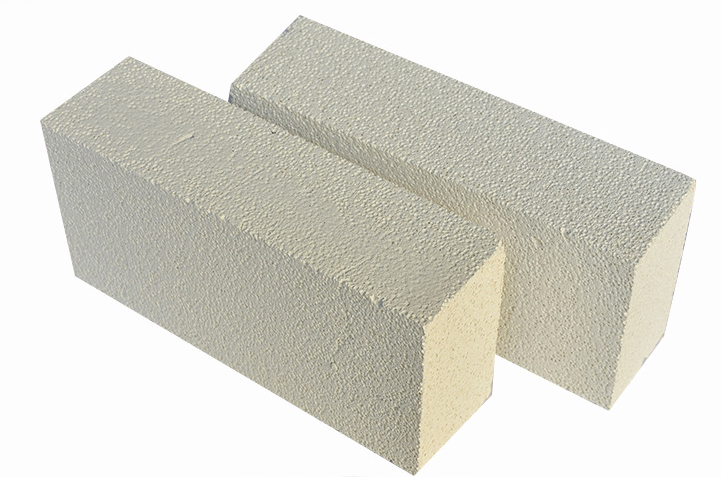 Non-fired Zr-Containing Refractory Product
The manufacturing process of zirconium-containing refractory products without firing is simple, and the product qualification rate is high.
1) Use stabilized zirconia clinker or zircon as raw material.
2) Use water glass, phosphoric acid, phosphate, or sulfate as the cementing agent.
3) Mix the raw materials and cementing agents, and undergo high-pressure molding and low-temperature heat treatment to make zirconium-containing non-fired materials.
The heat treatment temperature varies with different binders. When aluminum dihydrogen phosphate is used as the cement, the heat treatment temperature is about 300°C; when phosphoric acid is used as the cement, the heat treatment is carried out at a temperature of about 600°C.
What Are These Products Used for?
Zirconium-containing refractory products can be widely used in metallurgy, building materials, the chemical industry, machinery and other professional fields due to their high refractoriness, mechanical strength and chemical stability.
Zirconia bricks can be used in thermal equipment in the building materials industry and metallurgical industry, such as billet continuous casting sizing nozzles, submerged nozzles and slag lines in long nozzles.
Zircon bricks are resistant to low-alkali glass corrosion. They can be used for the kiln wall of the glass melting furnace, as well as the arch feet of the upper structure of the glass melting furnace or the intermediate transition layer between silica bricks and corundum bricks.
Zirconia-mullite fused cast bricks can be used in heating furnaces, soaking furnaces in the metallurgical industry, glass melting furnaces in the building materials industry, etc.
Zirconium corundum bricks have good resistance to melt erosion. As a high-grade abrasive, it has a good grinding effect on steel, cast iron, heat-resistant steel, and various alloy materials.
If you want to know more about zirconium material, we would like to advise you to visit Stanford Advanced Materials (SAM) for more information.